Here at Post Falls Family Medicine, we support childhood immunizations. We recognize the vital role vaccinations play in safeguarding the health of your children. Getting your child vaccinated not only helps protect your child, it also helps protect others in your community. When everyone who can get vaccinated does get vaccinated, it helps to prevent the spread of disease within a community.
While we encourage childhood immunizations, we also recognize and respect a parent's right to make choices regarding your child's healthcare. Our hope is to provide information and answer questions to help you make a good decision for you and your child. We strive to partner with you in your child's care, without judgment and with sound reasoning.
Please approach any of our providers or clinical staff with questions you may have regarding immunizations. They want to help you make an informed and appropriate decision for your child. We have also provided a schedule of recommended immunizations based upon age. In a partnership with Idaho, we offer all recommended childhood immunizations in a safe, friendly environment.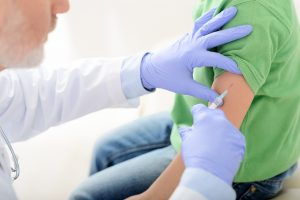 Below are the current Vaccines and Immunizations offered at Post Falls Family Medicine.
Adult
HD Fluzone (65yrs on up influenza)
 To view the Recommended Adults Schedule for ages 18 years and older, United States, 2023 please click the below link to be directed to the CDC website.